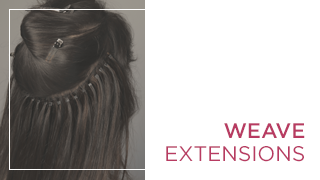 Toevoegen aan wishlist

Toevoegen aan wishlist

Toevoegen aan wishlist

Toevoegen aan wishlist

Toevoegen aan wishlist

Toevoegen aan wishlist

Toevoegen aan wishlist

Toevoegen aan wishlist

Toevoegen aan wishlist

Toevoegen aan wishlist
Weave haar kopen? Bij ons verkrijgbaar in verschillende merken!
Een weaving, ook wel haarmatten, weave haar, hairweave of weft genoemd, is een populaire vorm om het haar te verlengen of meer volume te geven. Een weaving bestaat uit een lange band (vaak 1 meter breed) met daarop het haar genaaid. Doordat het een flexibel systeem is, kan er voor meerdere manieren van bevestiging worden gekozen. Een weaving kan door middel van een vlecht, microrings, haarlijm, bondings of clips in het haar worden bevestigd. Afhankelijk van de gekozen manier zit het haarstuk tijdelijk of permanent in het eigen haar.
Om de juiste weave te kopen is het belangrijk om te weten hoe ze geplaatst zullen worden. Afhankelijk van welke methode er gebruikt wordt om de hair weave te plaatsen, wordt deze met het eigen haar op horizontale wijze aangebracht.
Haar weave
Wij bieden verschillende merken weave hairextensions aan, namelijk: Great Hair Weave Extensions, Double True Weave Extensions, Balmain Double Hair en Di Biase weave extensions. Deze extensions zijn gemaakt van 100% echt haar en zijn Remy gesorteerd. Dit houdt in dat alle haarschubben de juiste richting liggen. Hierdoor ga je klitten tegen in het haar. 
Hairweave
Advies van de expert 
We adviseren ten alle tijden de geadviseerde verzorgingsproducten te gebruiken. Deze producten zijn speciaal ontwikkeld voor onze extensions. Voorkom klachten en behaal de maximale draagtijd door deze producten optimaal te gebruiken.
Was de extensions maximaal 1 keer per week. Om de kwaliteit van het haar te behouden. Je kan je eigen haren boven op je hoofd vaker wassen door de extensions in een staart vast te maken.  
Voordelen van Weave Extenisons:
Snel en eenvoudig te bevestigen in het haar- Herbruikbaar
Makkelijk te verwijderen met de multitang van Great Hair
100% Echt haar
Zonder warmte
Behandeling is binnen één uur afgerond
Hairweave kopen
Hoelang blijft een weave zitten? 
De duur hoelang de extensions blijven zitten, hangt af van verschillende factoren. Welke manier het in je haar is bevestigd en hoe snel je eigen haar groeit. Het haar gaat gemiddeld 8 tot 12 maanden mee en soms nog veel langer. Over het algemeen plaats je de extensions iedere 6 tot 8 weken weer omhoog. 
Wij adviseren wel om het haar niet te lang te laten zitten. Dit om beschadiging aan je eigen haar te voorkomen.
Kleuradvies: 
Weet jij niet welke kleur je nodig hebt of twijfel je over de kleur? Bestel de kleurenring van het merk dat je wilt aanschaffen om de juiste kleur te bepalen. Voor het merk Great Hair Extensions bieden wij ook kleursamples aan.
Hoeveel wefts (per 50 gram) heb je ongeveer nodig:
| | | |
| --- | --- | --- |
| Volume behandeling |   | ca. 1 pakje |
| Haarverlenging | dun haar | ca. 2 pakjes |
|   | Normaal haar | ca. 3 pakjes |
|   | Dik haar | ca. 4 pakjes |