Great Hair Extensions, een webshop die allerlei soorten extensions levert, is een expert in de wereld van haarverlengingen. Great Hair Extensions is marktleider op het gebied van hairextensions en heeft het breedste aanbod. Daarnaast bieden wij ook trainingen aan in het zetten van hairextensions.
Hairextensions; ook voor jou
Hairextensions zijn voor bijna iedereen geschikt. Als je denkt om extensions te nemen, moet je voldoen aan de volgende voorwaarden;
Het haar moet een minimale lengte van +/- 15 cm hebben om een echt mooi natuurlijk resultaat te behalen.
Het haar moet in goede conditie zijn, dus sterk genoeg om de extensions te kunnen 'dragen'.
Je mag niet meer dan gemiddeld haaruitval hebben, zodat het eigen haar de bonding minimaal 4 maanden kan dragen.
Permanente of tijdelijke haarverlenging?
Mits het eigen haar in goede conditie is, er geen sprake is van overmatige haaruitval, de extensions professioneel geplaatst worden en op tijd weer verwijderd worden, zijn permanente extensions van echt haar het mooiste en het gemakkelijkste. Bij slechte haarconditie en overmatige haaruitval, adviseren wij tijdelijke (niet-permanente) extensions. Een voorbeeld hiervan is de Dante Couture. Dit is een prachtig systeem van 100% echt haar, dat door middel van een onzichtbaar draadje wordt bevestigd, totaal onschadelijk is voor het eigen haar. In één minuut worden je haren verlengd en krijg je meer volume.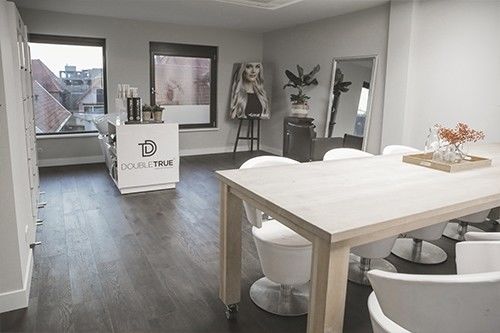 Hairextensions groothandel | Great Hair Extensions
Wat kost een haarverlenging?
De kosten zijn afhankelijk van het merk, de lengte en het aantal extensions. Het is dus moeilijk om een richtprijs te geven voor een haarverlenging. De extensions hergebruiken na de volledige draagtijd, raden wij af. Er is altijd veel haarverlies bij het uithalen van de extensions. Dat betekent dat er meerdere extensions moeten worden samenvoegd. Bovendien zijn de extensions op lengte geknipt of gesneden. Vooral als het haar in lagen is geknipt, wordt het herplaatsen lastig. Het is arbeidsintensief en de extensions blijven over het algemeen minder goed zitten. Uiteindelijk ben je niet voordeliger uit dan wanneer je een nieuwe haarverlenging plaatst.
Hoe lang blijven extensions zitten?
Dit geldt natuurlijk enkel voor permanente extensions. Het is afhankelijk van de dikte en kwaliteit van het haar en hoe snel het haar groeit. Gemiddeld moeten extensions na 4 maanden verwijderd worden en kunnen er nieuwe geplaatst worden. Bij dun breekbaar haar is die periode 1 maand korter en bij gezond, dik haar kunnen extensions wel 5 maanden blijven zitten.
Aandachtspunten bij hairextensions
Mits de salon de extensions goed plaatst, het eigen haar in goede conditie is en de extensions thuis goed worden verzorgd, is er geen risico aan het dragen van extensions. Het is wel erg belangrijk dat de extensions er op tijd worden uitgehaald. Laat je ze te lang zitten, dan kunnen de extensions schadelijk zijn voor het haar. Een goede salon zal hier ook altijd op wijzen. Bovendien is het tussendoor altijd mogelijk om tijdelijke (niet-permanente) extensions te nemen als het haar even niet in topconditie is.