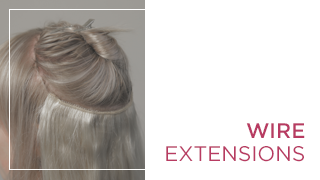 Wire Extensions: Haarverlenging in één minuut!
Wire Extensions, One Piece, One minute en weave met draad, allemaal benamingen voor deze snelle haarverlening methode. Hairextensions die geen schade veroorzaakt aan je eigen haar. De meest snelle en eenvoudige manier om jouw haar tijdelijk of iedere dag in 1 minuut te verlengen en/of volume te geven. Het haarstuk verwijderen neemt ook maar enkele seconden in beslag.
De wire extensions zijn geschikt voor ieder haartype, ook als je haar wat dunner is. Het werkt in tegenstelling tot alle andere haarverlengingsystemen met een onzichtbaar draadje die over je hoofd gedragen wordt en onzichtbaar tussen jouw eigen haar valt. De Great Hair One Minute, Double True One Piece en Dante Couture wordt ook veel gedragen door bruidjes, artiesten en vele BN-ers. Dankzij de prijs is deze methode voor iedereen toegankelijk is geworden.
De systemen die wij aanbieden zijn gemaakt van 100% echt haar en zijn gegarandeerd van de hoogste kwaliteit haren gemaakt. Hierdoor kun je de Great Hair One Minute, Double True One Piece of Dante Couture samen met jouw eigen haar stylen. Als je het haarstuk in model wil laten snijden of knippen, laat dit dan doen door een professionele kapper/kapster. 
Wire Extensions kopen
Wij bieden verschillende merken Wire Extensions aan, namelijk: Great Hair Extensions, Double True Extensions en Dante Hair. Alle merken zijn voorzien van 100% echt haar. 
Extensions met draad
Voordelen van Wire Extensions:
Ze gaan heel lang mee
Ze zijn heel gemakkelijk zelf te bevestigen
Binnen 1 minuut een haarverlenging
Extensions zonder warmte
100% Echt haar
Je haalt de extensions er zo weer uit
Je eigen haar wordt niet beschadigd. 
Advies van de Expert:
Verwerk nooit twee merken haarverlenging door elkaar, om klitten te voorkomen.
Zwemmen in chloorhoudend, zout of zeewater alsmede een thermaal bad wordt afgeraden
Geen extensions dragen bij een saunabezoek
Het haar altijd goed verzorgen met de geadviseerde verzorgingsproducten. Garantie vervalt bij gebruik van andere verzorgingsproducten.
Nooit met de Wire extensions gaan slapen. 
Twijfel je over de kleur?
Weet jij niet welke kleur je nodig hebt of twijfel je over de haarkleur? Bestel van te voren eerst de kleurenring, om de juiste kleur te bepalen. 
Hair Extensions zelf inzetten?
Het is eigenlijk heel simpel. De wire extensions zijn namelijk met een draadje bevestigd. 
*Uit het oogpunt van hygïene, zijn de Great Hair One Minute, Double True One Piece en Dante Couture uitgesloten voor omruiling/retourzending. 
Bekijk het aanbod wire extensions snel!