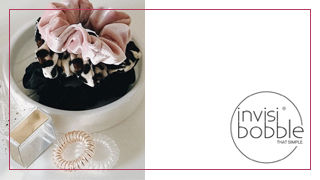 Producten 1 tot 24 van 81 in totaal
Pagina
Je leest momenteel de pagina

1
Producten 1 tot 24 van 81 in totaal
Pagina
Je leest momenteel de pagina

1
Invisibobble
Zeg vaarwel tegen knikken in je haar met elastiekjes van Invisibobble. De producten van het Duitse merk laten geen afdruk achter in het haar en voorkomt trekkend haar en hoofdpijn. Invisibobble bevat geen metalen onderdelen waardoor hij ook beter te verbergen is in het haar. En het is natuurlijk beter voor je haar! Invisibobble is verkrijgbaar in verschillende kleuren, wat hem ook leuk maakt als een leuke armband. Ook zijn de elastiekjes waterbestendig. Een echte aanrader dus!
Invisibobble Waver
De Invisibobble Waver. De allernieuwste innovatie op het gebied van haarschuifjes. Ze zijn traceless, zacht en comfortabel. De Waver is onschadelijk voor het haar en heeft geen metaal of scherpe randen. De Waver kan gemakkelijk aan het haar worden gepositioneerd doordat de gebogen onderkant is aangepast aan de vorm van het hoofd. De Waver heeft een zeer goede grip en sluit goed af. Een favoriet!
Invisibobble Nano
Geen klemmetjes of bobby pins meer nodig met de Nano-editie van Invisibobble. Het elastiekje laat geen afdruk achter in je haar en voorkomt hoofdpijn. Invisibobble bevat geen metalen onderdelen wat het vriendlijk maakt voor je haar. Ze zijn verkrijgbaar in meerdere kleuren. Neem snel een kijkje!