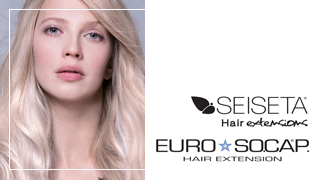 Euro Socap Extensions / Seiseta
Toevoegen aan wishlist

€ 26,62

Meerdere varianten

Toevoegen aan wishlist

€ 16,94

Meerdere varianten

Toevoegen aan wishlist
Euro Socap hair extensions  
Great Hair Extensions levert extensions van verschillende merken. Een voorbeeld van een topproduct tegen een scherpe prijs is Euro SoCap. Euro SoCap zijn gemaakt van 100% Indisch haar en kunnen lichte tot sterke natuurslag tonen. Hierdoor zal het haar altijd mooi en natuurlijk vallen met je eigen haar. De extensions van Euro SoCap worden bewerkt in Italie door een team van hoog gekwalificeerde vakmensen. 
Euro Socap Extensions kopen  
Great Hair Extensions biedt jou de Euro SoCap Extensions aan. Alhoewel er drie verschillende merken SoCap hairextensions bestaan, namelijk:  
Euro SoCap

 

SoCap Originals 

 

She by Socap. 

 
Veel mensen vragen zich dan ook af wat het verschil is tussen de drie soorten hairextensions. Wij zijn van mening dat er geen verschil tussen zit. Alle drie de SoCap leveranciers in Nederland beweren dat zij 'de enige echte SoCap' zijn. Echter was hun vader in het verleden de eigenaar van de enige SoCap, maar hij droeg het bedrijf over aan zijn drie zoons. Die drie broers hebben ervoor gekozen om hun eigen weg te gaan en hebben ieder hun eigen sticker op het merk geplakt om zo alleen verder te kunnen gaan en de concurrentie met elkaar aan te kunnen gaan.  
De kwaliteit van de Euro SoCap Extensions doet verwachten dat er een ontzettend hoog prijskaartje aan de extensions hangt. Maar niks is minder waar, want de prijzen zijn ontzettend voordelig voor de kwaliteit van 100% menselijk Indisch haar.  
Wij bieden naast de Eurocap Extensions ook de Euro SoCap Microring Extensions aan. Mocht je niet zeker weten welke kleur je zoekt raden wij altijd aan om de Euro SoCap Extensions kleurenring Human Hair aan te kopen.  
Euro SoCap Verzorging 
De SoCap hairextensions kunnen gekleurd worden, echter is dit altijd op eigen risico. Het kleuren van de haarextensions is op basis van maximaal 3% waterperoxide.  
Voor verzorging van de Euro SoCap Extensions adviseren wij het Great Hair Proline verzorgingspakket. Met de ze verzorging houd je de extensions in optimale conditie en kun je lang genieten van je haarverlenging.  
Kies één van de geweldige extensions uit en bekijk welke kleur het beste bij jou past. Bekijk ook goed je eigen haar of het zetten van extensions geschikt is voor jou of laat hier iemand naar kijken. Mocht je toch vragen hebben of interesse in een ander merk, dan kun je altijd bij ons terecht bij de klantenservice via Tel: (0)74 2780449 of E-mail: info@greathairextensions.nl 
Benieuwd naar al onze extensions? Klik dan hier!