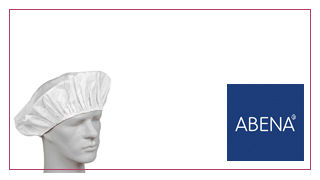 Abena Kappers-handschoenen
De wegwerphandschoenen van Abena zijn verkrijgbaar in verschillende maten, kleuren en te verkrijgen in vinyl en nitril. Het grote assortiment is van uitstekende kwaliteit en poedervrij. Hulp nodig bij het vinden van de juiste handschoenen? Wij helpen je graag. Lees hieronder verder om alles te weten te komen over onze Abena Wegwerphandschoenen!
Waarom gebruik je kappershandschoenen?
Handschoenen van Abena gebruik je als bescherming voor je handen. Bijvoorbeeld wanneer je werkt met haarverf  of permanentvloeistof. Onze Abena handschoenen zijn poedervrij, wat een vereiste is wanneer je werkt met chemicaliën. De wegwerphandschoenen van Abena hebben een CE keurmerk en voldoen aan alle richtlijnen.
Nitril handschoenen
Nitril handschoenen bieden voor kappers de beste bescherming. Ze zijn gemaakt van synthetisch polyester, waardoor ze ontzettend sterk zijn en er weinig kans is op een Latex reactie of een andere allergische reactie. De Nitril handschoenen scheuren niet snel waardoor kappers met onze Abena Nitril handschoenen het meest hygiënisch kunnen werken.
Vinyl handschoenen
Vinyl handschoenen bieden jou als kapper minder bescherming dan Nitril handschoenen. Ze kunnen namelijk sneller scheuren wanneer je met scherpe objecten werkt of lange nagels hebt. Daarom raden wij deze minder snel aan wanneer u met gevaarlijke stoffen werkt. Wel zijn onze Nitril handschoenen zacht en makkelijk aan te krijgen. Nitryl handschoenen hebben een comfortabel draagcomfort. Ook zijn Vinyl handschoenen een stuk voordeliger. Ook de Vinyl handschoenen zijn poedervrij. Waarom poedervrij? Veel mensen krijgen een allergische reactie van de poeder. En met de poedervrije Abena Vinyl handschoenen dus niet!