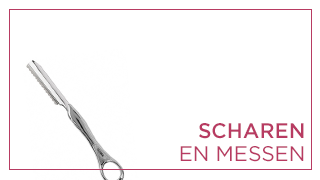 Producten 1 tot 24 van 185 in totaal
Pagina
Je leest momenteel de pagina

1
Producten 1 tot 24 van 185 in totaal
Pagina
Je leest momenteel de pagina

1
Kappersschaar kopen?
Goede kappersschaar werkt beter
Goed gereedschap is het halve werk. Tenminste, wel als het om knippen gaat. Daarom kies jij, jouw kappersschaar met zorg uit bij Great Hair Extensions. Wij beschikken over een breed assortiment kappersscharen, die stuk voor stuk van uitstekende kwaliteit zijn. Uiteraard kan je bij ons terecht voor knipscharen, maar ook voor coupescharen.
Kapersmes kopen?
Naast een breed assortiment kappersscharen, vind je bij Great Hair Extensions ook jouw ideale kappersmes of scheermes. Hiermee zorg je ervoor dat elk model tot in de puntjes kan worden uitgevoerd.
Heb je een kappersschaar of mes snel nodig? Wij leveren uw kappersmes of schaar binnen 24 uur.