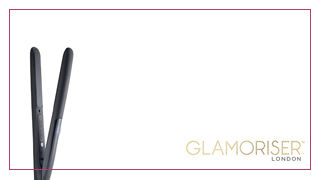 Glamoriser
Glamoriser is een innovatief merk dat altijd op zoek is naar nieuwe innovatieve haartools. Ze proberen verzorgende producten en tools te laten samen komen in onder andere stijltangen, haardrogers,krultangen en borstels. Alle tools zijn voorzien van Black Diamond Oil, dit zorgt ervoor dat het haar niet gaat pluizen of statisch wordt en een mooie verzorgende glans geeft over het haar.
Detangle & Dry
De Detangle & Dry is een ontklitter, borstel en fohn in één. Door de infraroodtechnologie droogt het haar net zo snel als bij een traditionele haardroger. Ook beschikt de Detangle & Dry over Black Diamond Oil. Dit geeft je haar enorm veel glans en geeft enorme volume aan je haar! Makkelijk in gebruik en zeer betaalbaar. Zeker de moeite waard dus!
Straight and Smooth Brush
De Glamoriser Straight and Smooth Brush is een echte aanrader! De verwarmde haarborstel zorgt ervoor dat het haar wordt ontklit en tegelijker tijd het haar droogt! De Brush beschikt over verschillende temperaturen van 80C tot 210C wat ervoor zorgt dat het geschikt is voor alle haartypes! Ook geeft de borstel aan wanneer hij heet genoeg is en dit wordt allemaal aangegeven op de LCD Display. Ook deze Brush beschikt over Black Diamond Oil wat ervoor zorgt dat het haar niet statisch wordt of gaat pluizen. Het brede oppervlakte zorgt ervoor dat je het haar makkelijk kunt stylen en het lichte gewicht zorgt ervoor dat hij super makkelijk en comfortabel is in gebruik. Een echte aanrader!