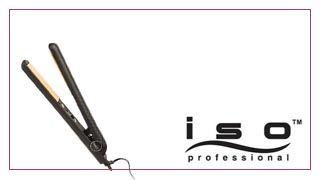 ISO Beauty Borstel
Iso Beauty is een echte favoriet! ISO ontwikkeld continue de nieuwste, meest innovatieve technieken op het gebied van stylingtools. ISO Beauty is een must have voor iedere kapper! Alle stylingtoolls hebben een keramische heater, dat het haar een geweldige glans geeft wanneer je het stylt. Ook zorgt hij ervoor dat de haarschubben worden gesloten bij het gebruiken van de tools. Veel van de tools hebben hippe, gave printjes waardoor je op een trendy manier je haar kunt stylen! ISO Beauty staat bekend om hun ruime assortiment dus neem snel een kijkje!
Stijl borstel Elektrisch
Met de Stijlborstel van ISO kan het haar prachtig gesteilt worden. Hij droogt, steilt en ontklit het haar tegelijker tijd! De Borstel is binnen enkele seconden warm en ready to go! De optimale warmte van de borstel is 230C. Met de easy grip kun je het haar comfortabel en veilig steilen. De borstel beschikt over een infrarood technologie die ervoor zorgt dat de warmte van de borstel goed doordringt tot in de kern van het haar.
Brush Paddle
De Paddle Brush van ISO is DE borstel voor het behouden van mooi haar. Hij verspreid het talg vanaf de hoofdhuid over het hele haar wat het mooi laat glanzen. De Paddle heeft een anti-slip handgreep wat het super comportabel werken maakt voor de kapperbranche.